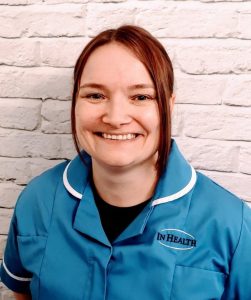 Helen Haigh

Imaging Services Manager & Superintendent Radiographer
The Leeds Upright MRI Centre

Who or what inspired you to pursue a career as a Radiographer?
From a young age I wanted to work in a hospital, although I hadn't decided what exactly I wanted to do. Having spent some time on placement in a hospital during school though I knew I did not want to be a nurse, and some time spent on the respiratory ward also helped me to see that physiotherapy was not for me either. I found radiography alphabetically as it came after physiotherapy in the school careers catalogue!
How did you qualify as a Radiographer?
Having then read into what medical imaging was I realised this was for me. I again arranged to spend some time in my local imaging department before applying to learn Radiography. It was definitely me! Health, care and technology. I applied to study Diagnostic Imaging at Derby University at age 18 and qualified in 2004, I chose to specialise in 2007 in MRI. Funnily enough during my placements at Derby, Leicester and Nottingham I always joked, who would ever want to do MRI, it looks so dull and takes so long. How wrong was I! I love it!
What does your role involve?
I manage the Open Upright MRI Centre for Leeds, and largely my role is running the Centre on a day to day basis as well as performing a clinical scanning role.
Describe a typical working day in the Upright MRI Centre.
Since joining UprightMRI, and since the pandemic began, we have become extremely busy providing Open MRI Scans to patients, some that may suffer from Claustrophobia or Anxiety, and others that require to be scanned in a weight-bearing position, or just need to be physically more comfortable than they might be in a conventional tunnel MRI Scanner.
We do see fewer patients than in a standard MRI department though, and this is because we allow extra time to talk to our patients, providing reassurance and putting them at their ease.  Our sequences also take a little longer than they would on a conventional system. On a standard day we can scan around 7 to 10 body parts.
Covid-19 has made our lives a little difficult with PPE changes and clean downs between examinations, but we ensure that all our visitors are kept safe in our clinical environment. It is rewarding to see that more patients than ever are becoming aware of Upright and Open scanners and benefitting from our service. This is good news for those patients that cannot tolerate a conventional MRI scanner.
What are the values that drive you?
If you are going to do something, do it right and do it well!
Understand that fears are irrational, and they can only be managed the best way that you can. Don't dismiss someone's fears. Use experiences with others to help you improve and learn, often you will use these techniques with another patient.
Treat others like you would wish your family to be treated, trust with highly anxious patients is difficult to gain, so its important to be able to read someone and use your experience.
What is the most challenging part of your role?
At Leeds we have the first Paramed MRO in the UK and I would have previously said that this working with this scanner is the most challenging part of my job, but after 8 years together I can pretty much ay I can deal with whatever the daily job throws at me, and this scanner allows for so much flexibility, it gives a whole new meaning to thinking in 3D!
We never know what the next challenge will be. Our patients are not 'routine'. They come in all shapes and sizes with different levels of mobility, as well as differing experiences that may have contributed to their anxiety. It can be a challenge to find a position they can be scanned in successfully, but I love a good challenge and it gives me a real buzz when it works!
What is the most rewarding part of your job?
Helping a patient get through their scan and knowing that you helped them achieve what they thought was impossible – what could be better?
What is your secret talent (that nobody knows) or something that has made you smile recently?
I would say my hidden talent is painting stuff – when the children give me chance!!